Dental Implants Frederick, MD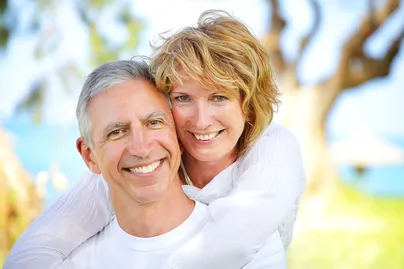 Patients who have missing teeth or major tooth and gum problems often have questions about dental implants. Implants are the modern solution for replacing teeth and are now often preferred over other solutions like dentures and bridges. They offer permanence and better stability since they are embedded in your jaw.
If you're interested in replacing one or more teeth with dental implants, our implant dentists at Frederick Cosmetic & Family Dentistry are here to help! Call our Frederick, MD office today at (301) 698-8200 to schedule a consultation. Keep reading to learn more about dental implants and see if they might be the best solution for you.
FAQs About Dental Implants
Here are a few of the most common frequently asked questions about dental implants, answered. Having more knowledge of this dental treatment may inspire you to take action and call your Frederick, MD dentist to see if you're a good candidate for this procedure.
What Is The Implant Procedure Like?
Dental implants are designed to serve the same purpose as the root of a tooth. They are small titanium devices that are inserted into the bone tissue below the gum line. The bottom part of the implant, which looks like a screw, is placed in your jaw during a simple in-office procedure. The screw is made of titanium, a material that is biocompatible, meaning your body won't reject it.
In fact, over time your body will grow more bone to fuse with the dental implant during a process called "osseointegration". The implant screw becomes firmly embedded in your bone and won't move. After the implant heals into the bone, which may take several months, an abutment and permanent crown are placed on the top. With a porcelain or ceramic crown that is made to match the color of your natural teeth, the implanted tooth is indistinguishable from the rest of your teeth.
What Are The Benefits of Dental Implants?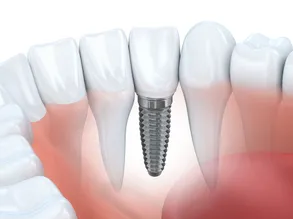 Unlike other dental restorations, implants are designed to be permanent and can last throughout your lifetime. Once they have healed successfully, they are virtually indistinguishable from your natural teeth. Dental implants will never decay like a natural tooth can and they resist staining. An implant can also be used to replace a single tooth, multiple teeth, even a full set of dentures with just a few implants!
Another important benefit of dental implants is that they are the only restoration that help to prevent bone loss in your gums. Implants help you retain the youthful fullness and contours of your face, especially your firm jawline. Your body produces more bone to fuse with the dental implant and the increased bone production fills out your facial contours. You won't have the sunken, sagging look of someone who wears dentures for a long time.
How Long Will Implants Last?
For patients of a certain age, a dental implant has a good chance of lasting for a lifetime. The crown part of the implant can last for up to 15 years before it may need to be replaced. Just like natural teeth, implants require meticulous oral hygiene, regular dental exams, and professional teeth cleanings to help prevent infections and gum disease. Seeing your Frederick dentist at least two times every year for professional cleanings and maintaining a regular at-home dental hygiene routine will ensure that the implant (and your other teeth) stays strong and healthy.
Why Are Tooth Implants the Best Solution?
The main reason why dental implants are the ideal solution is that they are permanent. Once they're installed, they're no different than any of your other teeth in terms of function and appearance. They also help keep the bone tissue healthy and strong. When you get dentures or bridges, the bone tissue can degrade over time. Also, unlike dentures, dental implants are more stable and won't ever move around, making them more comfortable than a set of dentures.
Who Can Get Dental Implants?
Only patients who have generally good dental health can get dental implants. Viable bone tissue is needed to ensure that the implants will stay rooted. That's why it's important to see a dentist for a tooth implant as early as possible. If you are in good overall health and have enough bone density, dental implants may be a good option for you. In some cases, a bone grafting procedure can help improve a patient's chances of having a dental implant integrate successfully.


Implant dentistry is a straightforward, effective procedure that can replace one or more teeth, even a full set of teeth! If you're interested in getting dental implants, call Frederick Cosmetic & Family Dentistry in Frederick, MD today at (301) 698-8200 to schedule an appointment.